Last updated on August 20th, 2021
There are various benefits to using a MIG welder. It's easy to use requires minimum splatter and joins numerous metals from different positions. Especially if you're a beginner, a MIG welder can be very advantageous. You don't have to spend a lot on MIG welder, we present to your out top picks of MIG welders under $1000.
Top MIG Welders Under $1000
From our extensive research and personal trials, we've come up with the best and most versatile MIG welder you can find under $1000.
Key Features:
30% duty cycle with 130 Amps
7 voltage selections
25-190 output amperage
Operates on 230 V power
Can weld 24 gauge to 5/16 inches of steel in a single pass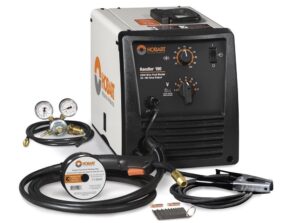 Why do We Like It?
If you're looking for a high-quality and versatile MIG welder, then this welder from Hobart is an excellent choice. This machine is very easy and straightforward to operate. The instructions are easily understandable, and you can set up the machine in just a few minutes. You don't have to be a pro to use this machine. It's ideal for DIY projects like metal sculpture, farm equipment, garden and lawn equipment, trailer repair, marine and auto repair, aluminum repair, and many others. It also features seven voltage selections that provide control over output setting, improved arc performance, and ups the wire feeding speed.
This machine also sports a very high welding range with a metal thickness ranging from 24 gauge to an impressive 5/16 inches. The 190 MIG welder 230V from Hobart also features an output of 25-190 amperage. With a duty cycle of 30% at 130 amps, it's higher than most of its competitors. This welder is also a spool gun ready. A spool gun allows you to extract the wire feeding issue and weld aluminum conveniently. With its built-in contractor feature, you can wield this machine more efficiently and provides safety by ensuring that the wire is electrically cold when you're not using it.
It also comes with a thermal overload system that prevents overheating. This feature also enhances the longevity of the machine. With a weight of just 78 pounds, you can carry this welder with a cart.
Advantages
Provides lots of extras
Features a thermal overload protection system
Affordable
High wielding range
Portable and easy to use
Spool gun ready
Seven voltage control system
Disadvantages
Requires high voltage to run
Expensive compared to Chinese MIG welder brands
---
Key Features:
Features a tray under the welder for cables
Operates at 115V
A duty cycle of 20% at 90 amps
Welding range of 25-140 amps
MIG welder with 4 voltage output
Welds 24 gauges to ¼ inches of mild steel
Why do We Like It?
This MIG welder from Hobart is not just compact and heavy-duty but comes with an affordable price tag. This Hobart MIG welder can weld a long list of things such as works of art, ornamental designs, work machinery, sporting equipment, trailers, BBQ pits/devices, among others. Despite its compact design, this machine has a lot of power and will deliver excellent results with a power of 140A. It also comes with a duty cycle of 20% at 90 amps, which will be sufficient for most household works.
With the MIT capacity/function, you can use this unit to weld thin materials such as aluminum, steel, and stainless steel. Additionally, with the flux-core option, you can weld thicker stainless-steel materials. It can also weld items that have a thinness of 24 gauge and thickness of ¼ inch. If you're looking for a welder for auto bodywork, rental shops, farm use, home repairs, maintenance, and construction work environments, this MIG welder from Hobart is an excellent choice.
If you constantly work from place to place, you'll also love the fact that this unit is also lightweight and easy to transport. Thanks to its compact design, it'll also not eat up too much space. Considering you're getting a high-quality MIG welder with such an affordable price tag, this unit will certainly be worth your investment.
Advantages
Can run on 110-volt outlet making it great for beginners
Portable with a weight of just 57 pounds
The compact design makes it easy for storage
Dual processing capacity makes it ideal for various materials and thicknesses
High-precision arc performance
Less welding spatter
Disadvantages
For MIG welds, you may require an additional gas cylinder
Not suitable for heavy-duty industrial operations
A little expensive compared to gas-powered units
---
Key Features:
Can weld 24 gauges to 3/8 inches of mild steel
Aluminum cast drive system
Output amps of 25-140
7 voltage settings
The input power of 115 or 230 volt
Features a quick-change drive roll system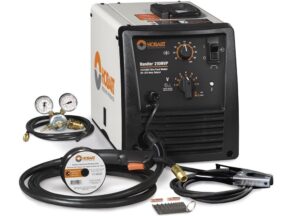 Why do We Like It?
This MIG welder is one of the best-selling units from Hobart. If you're more of a professional, this welder will be perfect for you. It comes with a comprehensive setup guide, so it'll take just a few minutes for you to set it up and start running. It's a heavy-duty unit that'll be able to make most tasks with ease, but thanks to the easy settings, it's quite suitable for beginners as well. It's quite a versatile unit and is suitable for mild steel, cast iron, cast steel, aluminum, stainless steel, and many more. It provides quick results strong and super smooth welds. Possessing 210 amps of power, it can deliver superior performance. It's also flexible capable of running on 115V or 230v input power without the requirements of any tools.
You can also opt for the optional spool gun, SpoolRunner 100. It's not necessary but highly recommended. It's a highly efficient spool gun that attaches quickly to the front of your welder. It offers you a precise, quick, and straightforward weld, especially while welding aluminum.
Out of the box, this unit comes with everything you'll need to start welding. It can weld 24 gauge up to 3/8 inches of mild steel in a single pass. Thanks to the infinite wire feed speed control, you can achieve full control of quality arc performance with minimal spatter and clean-up.
Advantages
Sturdy aluminum cast drive system
Easily welds ¼
Simple setup and easy to use
Suitable for beginners as well as professionals
Versatile and ideal for mild steel, aluminum, cast steels/irons, stainless, etc
Multi-function plug feature
Disadvantages
Heavyweight makes it not very portable
You'll need to get the cart to move around
A spool gun is not included
---
(Dual Voltage 220V/110V Mig/Tig/Arc Stick 3 in 1 welder/welding machine)
Key Features:
A duty cycle of 30% at 200 Amp
Multi-process welder
Digital display
Made of stainless steel
MIG maximum of ¼ inches for a single pass and 5/8 inches for multi-pass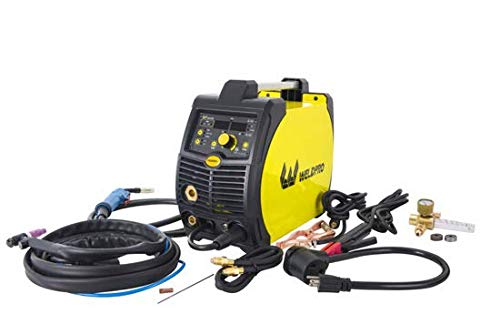 Why do We Like It?
This compact welder from W Weldpro provides excellent performance at an affordable price tag. With a weight under 30 pounds, it's easily one of the most compact and versatile welders you can find at this price range. Thanks to its compact size, you can easily fit it into small spaces. With its bright yellow color, it'll easily stand out in your workshop. Even though it's categorized as an entry-level welder, it has various features that make it go head to head with more expensive offerings. With the Weldpro 200, you'll have multiple options. You can stick TIG or stick weld from single equipment. This unit also provides flux core welding and MIG welding.
If you're a beginner and looking for a new MIG welder, this unit will be perfect for you. It's very suitable for construction, fabrication, and other light projects. It can weld up to ¼ inches of mild steel. Thanks to its life TIG welding, you'll be able to work with other metals as well. Thanks to its synergetic design, you'll be able to modify wire speed as well as voltage at the same time with a straightforward dial while you're MIG welding.
This unit also features three main wire settings of 23, 30, and 40 thousandths. It also comes with numerous extras such as a brush hammer, gas hose, flow meter, electrode holder, earth clamp, TIG torch (13 foot), and a MIG torch (10 foot). It's quite a value for money unit.
Advantages
Excellent value for money
Excellent for beginners
Compact, lightweight and portable welder
Durable design
Powerful MIG welder
Lots of extras
Disadvantages
No spool gun provided
Low energy efficiency
---
Also Read: Best TIG Welders Under $300, $500, $1000, $2000, and Above
---
(230-volt or 120-volt. "3-in-1" Multiple Welding Processes – MIG, Stick, and TIG. )
Key Features:
HD cast aluminum
Output power of 190amp
Dual voltage of 120v/220v
3 in 1 MIG welder, stick welder and TIG welder
Electric corded MIG welder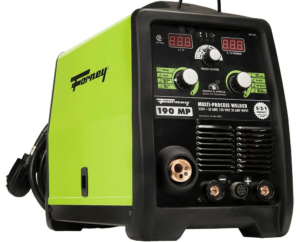 Why do We Like It?
If you're looking for a versatile MIG welder, then you'll absolutely love this unit from Forney. Particularly if you're a home-based welder, purchasing various welders can be challenging. With this unit from Forney, it becomes very easy to switch between stick weld, Tig, or MIG easily and also saves space in your garage or shop. Additionally, it's also capable of performing flux-cored or gas MIG welding. It comes with an easy and comprehensive guide so you can set up this unit in no time. This unit is also suitable for both beginners and professionals.
Like other Forney products, the Forney 324 also features Euro join MIG gun. This allows you to have a time-saving and comfortable welding project as it allows you to change the torch or MIG gun easily and quickly between welding projects. It is capable of welding up to 3/16 inches of metal for a single pass 3/8 inches of thicker metals for multi-pass. For stick welding, this unit can weld up to 5/32 inches with electrodes.
This Forney welder sports an HD aluminum cast making it very durable and sturdy. You'll be using this unit for a long time. With an impressive 190 amps maximum output, you'll be able to make short of almost anything. Not just that, but for thin metals, you can even use low current settings. This unit also features variable speed control. Various accessories with this welder, such as a torch, regulator, gas hose, electrode holder, 15 power cable, ground cable, and clamp, are also provided.
Advantages
10-speed selectors
Thermal overload indicator
Durable and sturdy build
High output
Versatile features
Easy to set up
Disadvantages
Power tends to trip at higher settings
Torch and Tig pedal not included
---
Key Features:
Digital IGBT inverter design
200-amp output power
240 voltage input power
Arc force control
Can weld aluminum with the additional MIG gun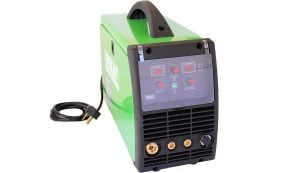 Why do We Like It?
This welder from Everlast Wanderers is not just powerful and versatile but also features an IGBT inverter, particularly designed to help with welding. If MIG is not possible, you still have the option to quickly change it to stick welding. Considering the power output available, you also have the option to choose from 110-120 volts. If you're someone that works from place to place, you'll love the fact that this welder weighs just 35 pounds providing you with convenience and portability. It also features a digital inverter and control burn back feature that'll help you save time.
You can also use a spool gun with this unit, which will make your work easier and faster. It's also a lot more portable making your job easier. This gun is capable of handling aluminum with no issues. If you're a DIY welder, you'll love the portability and the way it makes your work easier.
This unit also features a single control system that can handle both modes of welding. You don't have to switch between controls as it saves time and makes your work easier. The unit controls everything automatically. The Eurostyle quick coupler is also a great feature. With this feature, you can use aftermarket guns, which will save you a lot of money instead of opting for brand-new ones. In addition to delivering a fast change and cutting costs, the stick and MIG welding of this machine are capable of flux-cored welding with special drive coils.
Advantages
Produces less spatter
Convenient to switch to 220V from 110V
Only weighs 35 pounds
Simple and easy to use
Comes with air regulator and various accessories
Affordable
Disadvantages
Spool gun can take time to set up
When MIG starts, Stick is turned off
It has analog knobs do you might have some hard time adjusting
---
(230-volt, 190 AMP. Applications include do-it-yourself, metal fabrication, maintenance and repair, farm and ranch, and automotive.)
Key Features:
Welds up to 3/8 inches
Gas hose and flowmeter included
6 voltage settings
10-foot MIG gun
15-foot power cable
Regulator included
Why do We Like It?
This unit from Forney is a versatile welder that can be used for repair welding, automotive, boats, farms, and general fabrication. It is also MIG ready with a regulator and gas hose. This unit is also electric powered with an amperage of 190 amp and is capable of both flux-cored and MIG welding. This welder from Forney also features a high-quality wire feeding system constructed with cast aluminum with an improved despoiler and a drive roll. Thanks to the euro-style disconnect gun, you can remove the gun in just a matter of seconds. It is capable of welding cast iron, aluminum, stainless steel, aluminum steel, and mild steel from 1/16 inch-3/8 inches. 
It utilizes a 220V input power allowing you to reach higher output levels of up to 190A. It also possesses a decent duty cycle of 25% at 120A. This welder from Forney also provides six voltage settings to choose your desired wire settings. If you're unsure, there's a chart inside to help you figure out which settings will be suitable.
This unit weighs 63lbs and also features a handle on top to help you carry it. We were also very pleased with the 15-foot power cable along with the 10-foot MIG gun. This allows you to easily work on large areas, which can be very beneficial, especially for pro welders. 
Advantages
Easy to set up
Features replaceable parts
Can weld aluminum, mild steel, stainless steel, and even cast iron
Suitable for challenging tasks and heavy materials
New and improved functions
Durable and reliable
Disadvantages
Duty cycle might be low for some
Not a portable MIG welder
More expensive than similar welders
---
Key Features:
Multi-welding options
Aluminum cast body
Weighs 66 pounds
Features a duty cycle of 30% at 130amps
Provides a 230V for heavy-duty work
Why do We Like It?
Lincoln Electric is known for providing solid welders, and the 180-wire feed welder is one of them. If you want a comfortable and versatile MIG welder, then this product from Lincoln Electric is the right choice for you.
One of the best features of this unit is that it provides various welding options making it suitable whether you want gas-shielded MIG or gas-free flux core welding. Thanks to this feature, you don't need two pieces of equipment for this task. Additionally, this device is also compatible with various materials such as stainless steel, aluminum, and even thick steel.
Thanks to its brass to brass gun connection, the Lincoln welder provides more effortless connectivity and a smooth welding process. This welder is also fitted with high-quality resistant cast metal. This fitting makes the machine increasingly durable, making it resistant to wear and tear. You'll be using it for a long time.
Whether it's thin or thick metal, the Lincoln Electric welder is powerful enough to make short work of any project. With the knob on its body, you'll be able to control the output level easily. With a power output of 230V, you'll be able to carry out even the heaviest of work. This machine also weighs a modest 66 pounds allowing you to carry it wherever you like easily. Whether you want to work at home or outside, you'll have no problem handling it at all.
Advantages
Excellent wire feeding speed control
Versatile in function
Simple to operate
Spool gun ready
Sturdy and durable
Comes with many extras
Disadvantages
It is more suitable for light work than heavy usage
Not the most portable device around
---
MIG Welder Buying Guide
MIG welder comes with various features, and it boils down to what you want from a welder. However, there are certain features that are essential for any MIG welder. If you're looking for one, look out for these features.
Cost
Perhaps the most significant factor when choosing a MIG welder will be the expenditure. You can buy the most expensive one, and it might not be the most suitable welder for you. Similarly, you can opt for the cheapest ones you can find and find out that it's not capable of any work.
Ideally, you must find a balance between cost and functionality. You'll find lots of powerful and convenient MIG welders for under $1000.
Maximum And Minimum Amp Figures
Amperage means the amount of power and heats your MIG welder can produce. This is a critical feature as it draws on a particular amount of electricity and decides the kinds of metals your welder can work on. If you want to work on metals such as stainless steel and aluminum, you'll require a higher amount of amp for an effective and clean weld.
Voltage
It can be confusing to choose between a 115V, 120V, and a 230V voltage MIG welder. If you're looking for a welder for casual home workshops, a 115V and a 120V should be just fine. If you connect a 230V with a 120V circuit, it'll not switch on, and if you power up a 120V through a 230V circuit, it'll not function appropriately.
It's important to remember that MIG welders are often demanding when it comes to electricity. When you're utilizing the welder, it's ideal that that only your welder is using the electrical circuit, make sure you power down all other appliances that are using the electrical circuit as it may cause your arc to lose power or stutter.
Your Welding Requirements
Why do you want to buy a MIG welder? How frequently do you plan on using it? How long will your welding sessions last? These are important considerations because there are various machines you can pick from. If you're going to use your welder just a few times a year for simple and routine tasks, a light welder will be sufficient. On the other hand, some heavy-duty welders can slice through the toughest of metals. You've to consider what you want from your MIG welder in the long run and make your decision.
Duty Cycle
The duty cycle decides the length of time you can use your welder before it overheats. For instance, if your welder has a duty cycle of 30%, it means that you can continuously use it for three minutes throughout a ten-minute session before your machine will need a break. If you don't stop at the prescribed time, the welder will stop by itself.
The duty cycle is measured, keeping in mind the theoretical air temperature with a setting slightly lower than the maximum amp that your welder is capable of. If you use your machine at its top set on a hot summer day, it'll shut down continuously.
The Metals You'll Be Working On
Regardless of whether you'll be doing casual or intensive works, it's also an idea to opt for a welder that can work on various metals. If the welder is very cheap, it'll probably not have enough capacity to work on tougher metals. So, if you're looking for a more versatile MIG welder, you'll have to stretch your budget a little bit.
Portability
The portability of the machine is another important consideration. If your MIG welder is lightweight, you'll be able to carry it around easily and work on challenging situations like on top of a ladder. But portability does compromise certain features. Heavy welders are usually more robust, better build, and possess internal made out of sturdy metals.
Simple Controls
Whether you're a beginner or a professional, it's always beneficial to go for a welder that's convenient and easy to understand. You should choose a welder with a welding parameters chart and a comprehensive manual. Make sure that your welder is clearly labeled and features the switches inaccessible positions.
Final Verdict
If you're looking for a new MIG welder, the ones mentioned above will all make great choices. It comes down to your preference, but our no.1 pick would be the Handler® 190 MIG Welder 230 V (Hobart). Its portable has a high wielding range and comes with a lot of extras. If you're looking for more affordable options, then the PowerMIG 200amp Stick Welder from Everlast Welders and the 200 Amp Multi-Process Welder from W Weldpro are excellent choices.
If you're a beginner, the Handler® 210MVP MIG Welder (Hobart) and Forney 190 MIG Welder 318 should be at the top of your list. If you want a versatile and durable unit, then the Forney 190 MP Welder 324 is a must-have. The Handler® 140 MIG Welder 115V (Hobart) and K2698-1 MIG 180 Wire-feed Welder from Lincoln Electric, are also great welders with power and an affordable price tag.