These Bluetooth speakers are promising crisp clean sound, portability, and hours of playback time, all without breaking the bank (or your budget). I'm here to do the hard work for you and have made a list of my personal top five Bluetooth speakers to pair with the Amazon Echo Dot.
Something to consider is this is based on our research and findings, and each of these is able to be used with the Amazon Echo Dot.
They do not need the Echo to function. Everyone may not agree with these selections, feel free to leave any suggestions for other portable Bluetooth speakers that you know are compatible or think are better. The bigger the selection, the better.
List of Best Speaker for Echo Dot
The Beats Pill+ is a great portable Bluetooth speaker that offers many highly sought-after features. It delivers a range of 30 feet between your device and the speaker. This speaker is definitely a large improvement over the previous line of Beats Pill speakers, with a new crisp design and better quality overall. It charges using the Apple lightning cable, providing a quick recharge (a short 3 hours) to the 12-hour battery life.
If you own any Apple devices, this is also a pretty cool improvement for you, since the charging cable can also charge your other devices. The engineers kept their competition in mind while designing and creating this speaker as well.
They promise to deliver the best quality and performance possible and designed it to sound crystal clear at high volumes. If you'd like to use an AUX cord instead of Bluetooth, the Beats Pill+ also has an audio input jack. There is also an app available for Android and iOS devices. This app lets two users simultaneously connect their devices to the same speaker and alternate playing music. This is referred to as DJ mode.
You also have the ability to connect two of the Beats Pill+ Bluetooth speakers by "bumping" them together using NFC tap to pair technology. You can skip the bump and connect them together remotely through the app, too. The app also shows a battery gauge so you never have to guess how much battery life you have left.
Advantage
Built-in speakerphone for answering phone calls while connected
Long battery life
Compact design for easy portability
Clear sound
Can connect two Beats Pill+ together for a surround sound experience
Disadvantage
Although the sound is clear and the bass is flawless, it's just not as loud as other similarly priced Bluetooth speakers for the price.
Very comparable to the Beats Pill 2.0
The white version can get pretty dirty
Check Beats Pill+ Price on Amazon
This is a very popular portable Bluetooth speaker due to the sturdy build and loud sound for such a compact speaker. While it looks very similar to the original model, Bose made some great improvements. The added speakerphone and longer battery life make it comparable to the Beats Pill+. The aluminum build of it will most definitely protect it from drops or falls, but it may get scuffed or dinged up. To prevent this, Bose sells soft covers separately, made just for this model.
Bluetooth pairing is made almost too easy with this speaker. After powering on, it will ask you what language you want it to speak in, and then automatically starts the pairing process. You will still have to pair from the menu on your cellphone/ streaming device, though. Holding the power button down will prompt the speaker to tell you the battery percentage, and holding down the Bluetooth button lets you know which device it is currently connected to. The original model only offered 7 hours of battery life, while this one offers 10 hours.
The box also includes a charging cradle, making it comparable to not only the Beats Pill+ but also the Amazon Tap. It also includes a micro-USB cable for charging on the go, perfect for travel. With previous models, the outside looked very different but the internal components were nearly the same. With the Bose Mini II, though, it looks similar to its predecessor, and the sound quality is greatly improved. Although it isn't the easiest portable Bluetooth speaker on the market, the bass is pretty impressive considering the small size.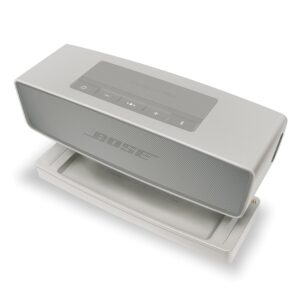 Advantage
Better quality than the first version
Big sound, small size
Sturdy
Disadvantage
No stereo pairing
Almost identical to the original
Some common Questions about Bose SoundLink Mini Bluetooth Speaker II:
Q: Can I disable the voice function?
A: Yes. Turn the speaker on, and hold down both volume buttons until you hear the prompt that the voice functions are off. To turn the back on, repeat the same process.
Q: Does it have Audio Input?
A: Yes, you can use an aux cord with this speaker.
Q: Can I have it on the cradle without it damaging the battery?
A: Yes.
Check Bose SoundLink Mini Bluetooth Speaker II Price on Amazon
(Waterproof and Shockproof)
This may be the best portable Bluetooth speaker we have included in this list. Featuring a 15-hour rechargeable battery, you won't have to worry about losing power while out traveling, or while entertaining guests at your next get-together. The battery will be fully charged in less than 3 hours. The Ultimate Ears BOOM 2 Phantom also is ideal for parties, with the ability to connect up to 150 of them together to take them to a whole new level.
There is also an option to use a feature called Block Party, allowing several users to connect their device to the speaker and take turns playing a song, similar to the Beats Pill+. One tap on the top of the speaker will play or pause the current song, two taps will skip the current song. Never worry about accidental disconnection from the distance of your speaker and device, since the Bluetooth range is 100 feet.
It also is waterproof and shockproof, up to 30 minutes underwater at one meter (about three feet). The sound quality greatly exceeds the low price point, thanks to the 360-degree speakers. Effortlessly change between songs by using either Siri or Google Now voice controls while synced to your Apple or Android device. It is also compatible with Alexa voice control through the Amazon Echo Dot. You also can remotely update the Ultimate Ears BOOM 2 Phantom Wireless Mobile Bluetooth Speaker through the Ultimate Ears app, available on Apple and Android.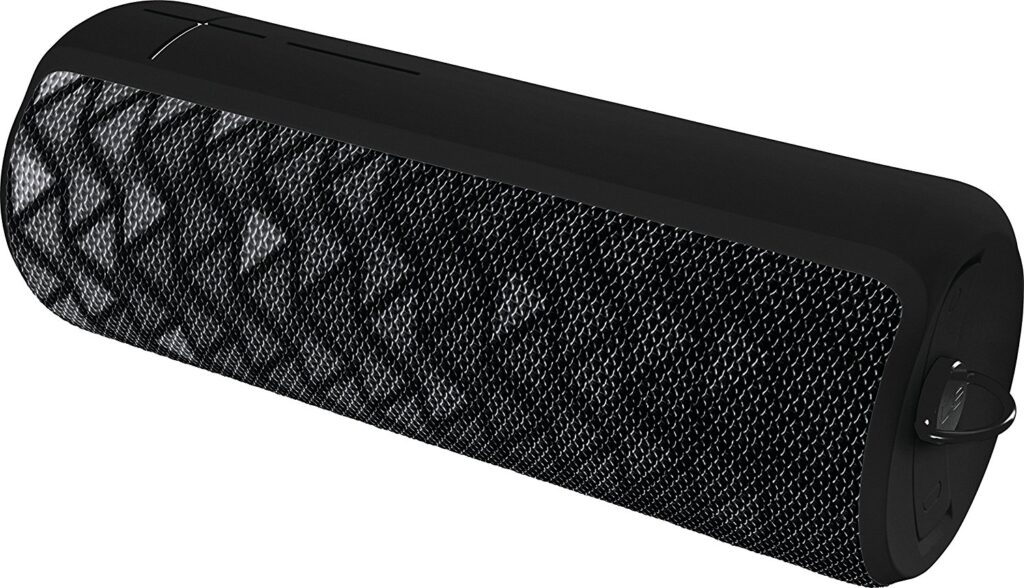 If you want to stream music off of a device without Bluetooth compatibility, that is fine too. There is an audio input jack to plug an AUX cord in between the speaker and device. Do you have several devices you would like to use with this speaker, but do not want the hassle of searching for them each time? The Ultimate Ears BOOM 2 Phantom Wireless Mobile Bluetooth Speaker has the ability to remember and recognize up to 8 different Bluetooth devices.
Advantage
Compact and durable
Great for the price
15-hour battery life
Disadvantage
We could not find one, except maybe the fact the mesh on the front is cloth rather than metal or a more durable material.
Some common Questions about Ultimate Ears BOOM 2:
Q: What is the difference between this and the original BOOM?
A: This speaker is exceptionally louder and clearer, with a long battery lifespan.
Q: Can I use it while plugged in?
A: Yes, using it plugged in will also optimize the battery, ensuring no chance of it dying while in use.
Q: Does the app let you control volume?
A: Yes.
Q: Is there a warranty?
A: Yes, there is a two-year manufacturer's warranty included.
Check Ultimate Ears BOOM 2 Price on Amazon
(2017 model)
Do not let the size of the Sony XB10 Portable Wireless Speaker fool you. The bass is strong, with absolutely incredible lows, mids, and highs. Easily connect your smartphone to this speaker using NFC technology.
No NFC mode on your device? No problem. This speaker also connects through Bluetooth. Or, use it wired with an AUX cord. Just simply plug your AUX cord into your device and speaker.
One speaker, not enough? At the low price point, you can easily buy two and connect them together. Rain or shine, you can fearlessly party all night long using its 16-hour battery life, and feel stress-free knowing it is water-resistant. Thanks to the Sony XB10 being so small and compact at 3.4 x 3.4 x 4.2 inches, you can easily take it anywhere on the go, just pop it in your bag.
Advantage
Water resistant
16-hour battery life
Extremely compact design
Available in multiple colors
Disadvantage
The soft finish attracts dust and grime
High volumes show slight distortion of sound
Some common Questions about Sony XB10:
Q: Can it be submerged into the water?
A: No, it is meant to be resistant to splashes, not full-on submersion.
Q: What comes in the box?
A: The speaker, and charging cable.
Q: How many watts?
A: 5 watts.
Q: Does this work with the Echo Dot?
A: Yes, Absolutely!
Check Sony XB10 Price on Amazon
Also Read: Best Bookshelf Speakers under $1000
Want to play music continuously without running out of charge? Then this CRDC Bluetooth Speaker is the best one for you. It has 30 hours standby time with 6 hours of full charge. 13-hour playtime is possible with medium volume. It is really helpful when you are chilling outdoor or doing some parties.
The main material of the item is plastic and the cabinet is made of metal. So, the speaker is highly durable. It is a great speaker for echo dot too. You can connect with a variety of methods. There is also a 3.5 mm audio-in jack for connecting a headphone or similar devices. The audio cable and the micro USB cable are included with the product. Its portable design allows the users to carry it comfortably. Built-in LED indicator for smooth controlling.
Advantage
Transmission distance is maximum 10 meters / 30 Feet.
Two-way audio crossover.
Red flash for low battery indicating.
Waterproof and dustproof (IP67 grade).
Variety of connectivity for the handiness.
You can talk on the phone through the speaker.
Overvoltage protection for the longevity.
It weighs half of a pound.
Disadvantage
For standard quality, the price comparatively high.
It is really tough to find a waterproof Bluetooth speaker for under $50. But this CRDC S204 Bluetooth Speaker has made it possible. You can continuously use this speaker without getting into any trouble. Moreover, there are multiple connectivities for the user's convenience.
Check CRDC S204 Price on AliExpress
Carrying a larger Bluetooth speaker is so tough. Keeping this thing in consideration, this speaker comes in a compact size and easily fits a backpack. So, next time when you are going on a trip, this speaker will be the best choice. No matter if you are carrying a small backpack, in a corner of the bag, it will accommodate without any issues.
It is the best Bluetooth speaker for people who have a minimal budget. It is a battery-powered speaker. There is a built-in lithium battery which takes only 4 hours for a full charge. You can give the charge with a USB cable which is included. With the full charge, you can enjoy music for up to 10 hours. So, enjoy your favorite music continuously without running out of charge. You can connect the speaker in different ways which are HDMI, AUX, Audio Line, and Bluetooth. When you are at home, you can AUX or similar things with the 3.5mm audio jack.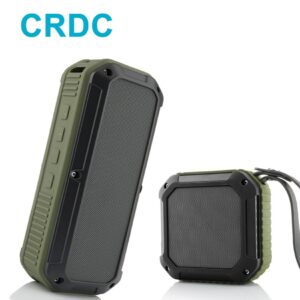 Advantage
Maximum coverage is 10m/13ft.
Two-way audio crossover system for the convenience.
Portable for hassle-free carrying.
Comes with built-in microphone.
Its price is affordable.
IP65 waterproof feature for the safety (such as camping, hiking, shower, and beach party)
It weighs half of a pound.
Disadvantage
Its sound is not so high like the home speakers.
You can't carry it in your pocket.
Among different Bluetooth speakers, this one has most of the fantastic features. It will give the best service for a long time without any issues.
Check CRDC S200C/S100C Price on AliExpress
How we selected this Speakers for Echo Dot?
Our selection process for these products was based on customer reviews, intensive research on each portable Bluetooth speaker, comparing and contrasting the devices, browsing the internet for affordable and higher-end speakers to suit everyone's financial situation, making sure they were all compatible with Amazon Echo Dot, and looking at the specs from the manufacturer's website.
Final Verdict:
For the most bang for your buck, you should purchase the Sony XB10 Portable Wireless Speaker with Bluetooth, Black (2017 model). This portable Bluetooth speaker also has the best battery life. Its small design will fit in any space flawlessly, and the color options cannot be beaten.
If you would like to stick to the bandwagon and go with a brand everyone knows and loves, we recommend the Beats Pill+. Its crisp, clean design will wow any crowd, and pleasantly compliment anything you have near it. The long battery life will last you half a day of straight music playback.