Last updated on August 25th, 2021
Cleaning your tires regularly should be a major part of your car maintenance routine. It seems trivial and cosmetic, but proper maintenance of your tires will protect them from cracking, weathering and corrosion. Plus, let's be honest, it also looks pretty impressive, having a car with a great wax finished to a shine, right down to the tires. Your tires should be shined as part of your regular car wash treatments, about every two weeks. But of course, your first step is learning about the differences in tire shine, in order to choose the best one for you.
Types of Tire Shine
There are essentially two types of tire shine (or tire dressing) on the market; water-based and non-water-based. They both offer protection from UV radiation when applied correctly but offer a very different finish. Each has its benefits and its downsides. Water-based tire dressing is environmentally friendly and non-toxic. It's safer if it accidentally spills onto yourself and the clothes and won't harm the paint job. It tends to spread more evenly and is non-stick, so easy to clean, and resistant to dirt. Meanwhile, solvent-based tire dressings provide greater resistance to water and tend to be long-lasting. They also offer a better shine. The downside is, due to the use of toxic chemicals, it is more dangerous to spill on yourself, or your clothing. They also run a greater risk to your paint job, and sometimes even your wheels.
The best tire shine for you may depend on a variety of factors: How much time or money you have to spend, as well as how safe they are to use is just a start. Our top ten list will provide you with the info you need to make the right decision for your car.
Top 10 Best Tire Shine on the market
We wish the list has helped you pick the Perfect Tire Shine for your wheels. If not, let's go into detail and pick the one that suits your needs.
---
Key Features:
Silicon tire gel provides even shine
Advanced long lasting formula lasts for two to four weeks.
Offers great UV protection.
Why we like it: A major problem with a lot of solvent-based tires shines is the tendency to sling. But Meguiar's stays smooth, slick, and shiny. It's not a spray-on, so it lasts longer and goes on more evenly than many other solvent-based tires shine.
Review: Even professional detailers who prefer water-based tire shines love this product for its longevity and high-gloss shine. The 16 oz bottle gives you months of use, with a long-lasting shine and smooth finish that will stay on even after multiple washes. It goes on easily, without slinging. It offers weeks of protection against the elements. As an added bonus, it smells great! As it's not a spray-on, it will take more time, but we're confident that the long-lasting results are worth the extra time.
---
Key Features:
Multi-shield surface works equally well on interior and exterior.
Goes on 100% dry to the touch. Never greasy or oily.
Extra thick emulsion, doesn't separate or sling, apply with a towel.
Why we like it: Extreme VPR Dressing is water-based and environmentally friendly, providing a shine that will last for months. It works as well on car interiors, whether leather, plastic, or rubber.
Review: Chemical Guys have long been a favorite for car detail, and their VRP dressing is no exception. It goes on dry and works for all services, avoiding slinging, or residue, for a shine that will last for months. Chemical Guys VRP protects against UV rays and resists cracking, both for your rubber tires and your leather seats. Also provides your tires, your bumpers, and your door moldings with a long-lasting shine. Be aware, as it's water-based, it may require additional coats if exposed to rain.
---
Key Features:
Non-toxic
Made in the USA
Comes with an applicator pad for easy use.
Why we like it: Care Guys tire shine gel is a solvent-based gel made of a polymer designed to prevent slinging and mess. It comes with an applicator to make the application simple and easy and provides a high gloss shine.
Review: For an 18-ounce bottle of high-gloss tire shine and included applicator, this is a bargain. The shine may not be as bright as other products but definitely lasts longer. Customer service from Car Guys is also second to none. Since it's not water-based, you don't have to worry about losing your shine after a rainstorm. Be aware, that some users reported an orange rust-colored after several applications, and many people actually suggest either using a different applicator or using it as a spray, in order to keep an even shine. But applying to tires that have been washed thoroughly before the application will prevent issues.
---
Key Features:
100% dry to the touch
High shine finish to exterior and interiors
Weather-Tek technology means it can withstand multiple washings before reapplying
Why we like it: Like other Chemical Guys products, Silk Shine Sprayable Dressing is designed to work with both interior and exterior surfaces, from plastic to rubber to vinyl and beyond. A single easily sprayed-on coat will last weeks, leaving a new car smell and showroom shine.
Review: Chemical Guys products are designed to be versatile, and work on multiple surfaces. It's easy to see why they end up on the top of multiple top ten lists. CG uses the same attention to detail in their products that you would while cleaning your car. This water-based tire shine offers a rich, shiny black coat, but goes on dry. No greasy residue, and no risk of running later. Weathertek technology means it lasts a long time without needing to reapplying after the rain, which is a huge selling point for a water-based dressing. The shine offers a very different look to the VRP Tire Dressing.
---
Key Features:
Provides a natural, clean finish
Easy to apply
Why we like it: Black Magic Tire Wet Foam is a great bargain, at the lowest price on Amazon. It's easy to apply with the aerosol can. In addition to the natural-looking shine, the foam keeps your tires clean and protected.
Review: Black Magic Tire Wet Foam is a solvent-based tire shine product. The finish isn't as glossy as some of the other tire shine products mentioned in this list, but if the tires have been washed thoroughly before application, they will protect against road dirt and mud for up to two weeks. The major selling point, beyond price, is the ease of application. The aerosol spray can contain foam that clings to the tires without leaving behind a residue. This is possibly the best budget all-in-one tire shine product: It shines, cleans, and protects. It's not the best cleaning solution, and if you want a glossier shine, may not be the right product for you, but for an easy, inexpensive shine, this is the product for you.
---
Key Features:
Natural-looking satin finish
Tire dressing of choice for aircrafts
Why we like it: What's not to love about a product that boasts that it is used on a Boeing 747? In all seriousness, this solvent-based tire dressing won't give you a wet or glossy look to your tires, but it provides a great matte finish that makes the tires look brand new and provides the protection you need against dust, dirt, and damage. The spray bottle means it's easy to apply a smooth and even coat.
Review: Not only does this product do exactly as advertised, providing a natural-looking black coat to tires, and protecting against UV rays, weather conditions, and dust. It also works well on rubber trim, vinyl, and plastic, such as on grilles, or window seals. And it's long-lasting: It will keep your tires looking great for up to three weeks.
---
Key Features:
Dark, lustrous shine
Two different looks
Banana smell!
Why we like it: Adam's is a little more expensive than some of our options, but it is a great option for the shiny wet look you're looking for on your tires. It smells great, and the look of your tires changes depending on your application. Everyone likes having options, right?
Review: Adam's Tire Shine is a high-gloss water-based tire shine. Depending on how glossy you want it, you can choose the spray bottle option, or use an applicator pad, for a less glossy, more natural wet look. The product goes on wet and has to wait at least 15 minutes, though, for longer-lasting shine, half an hour is recommended. Be aware, this product should only be used on tire rubber, and any excess residue should be washed off before driving to prevent slinging.
---
Key Features:
Water-based formula
Made in America
Non-silicon, won't build up residue over time.
Non-drip formula
Why we like it: Jay Leno's Garage's No Sling Tire Shine is proudly made in America. It's water-based and contains no silicon, which avoids a build-up of tire shine residue over time.
Review: Though a little on the pricier side, this tire shine brags about a no-sling formula for a reason. Water-based and silicone-free, the tire shine gives a wet and shiny look to the tire, with almost no runoff at all. When used correctly with an applicator pad, it provides a protective coat to your tires that last longer than any competitor on our list (about three to four weeks.) in spite of being water-based. And because it's water-based, it washes off clean to reapply, and won't build up an oily or greasy residue, or hard-to-remove coat of silicon when you want to scrub it off.
---
Key Features:
The non-sling formula that lets you choose between a matte and gloss look depending on your application.
Why we like it: 303's Tire Balm is among the best products out there for your tires. Not only is the protection top of the line, offering UV protection from the sun, dust, and in all weathers, you have control over the look of your tires. One coat gives a clean, matte finish, three give you a glossy finish.
Review: 303 Tire Balm is is a great option for people who like the matte finish, but want a little extra shine sometimes. 303's water-based polymers offer a no-drip formula that lasts up to three weeks. It protects against UV rays, dust, and dirt, and prevents dry rot.
---
Key Features:
Petroleum-based tire shine for a long-lasting wet look.
Trusted brand name
Why we like it: Armour All is one of the most trusted brands in car detailing, and Extreme Tire Shine makes it easy to see why. The spray bottle makes it easy to apply fast, giving your tires a glossy, wet look for up to two weeks. And at under $15 for Two 22 oz bottles, it's clearly an affordable option.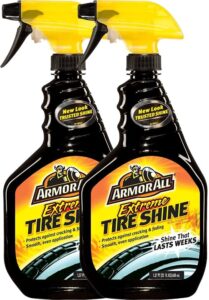 Review: Armour All is a trusted brand for sure, and the ease of use and great price make it a smart choice for car detailing. However, you should be aware because it's a solvent-based tire spray, there will be some runoff during application. Reviews don't describe any major slinging when using Armour All, and the product doesn't streak after it's been properly applied, but there tends to be more waste than some other products listed here. It also causes streaking on plastic or glass surfaces.
---
So What's The Verdict?
There are a lot of factors to consider when choosing the tire shine that is best for you. If price and ease of application are your major concerns, Black Magic tire foam may be your best option. However, if you have a particular look in mind, you might find yourself choosing between the Chemical Guys VRP Super Shine, for the super glossy finish, or going straight for the Aero Cosmetics natural matte finish. You are best off to look at what matters most to you. Ask yourself, what sort of look do you want? Matte, or gloss? What kind of price do you want to pay? Do you want something that goes on easy or something that lasts longer?
Whatever your needs, we are confident you will find the best tire shine on our top ten list. Also to protect your tire we reviewed some Tire Chains for your Car, Light Truck & SUVs.